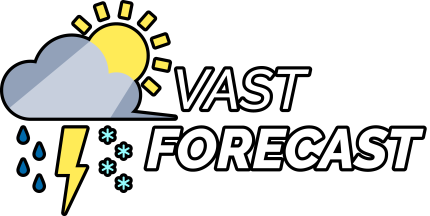 Vast Forecast
Week 45 - Planetree Pasture
---
Weekly Update #45 - Planetree Pasture
This is it: the moment we've all been waiting for! The tiles are... well... a fifth of the tiles are done! Planetree Pasture is looking fresh. The rest of the areas? Still solid color placeholders. Also content, tweaks, bug fixes, bla bla bla.

A new tileset for Planetree Pasture! Short grass blades, pebbles, and flowers are alternate tiles to make the ground look lusher than ever. Wall and ground tone has been swapped to keep the focus on the foreground. Water is now made up of tiles instead of being a giant blue rectangle. We are still making changes to Planetree Pasture and plan to move onto Sandspring once we're happy with the tiles.
Added three new passive items: Wigged Balloon, Pitstop Pass, and Dimensional Kiosk Sign.
Many objects have been given a colored outline rather than a black one to better fit with the new tileset.
Blaster has been reworked and resprited. It's now an auto-charge weapon. Shooting normally fires small bullets in quick succession, but letting it charge fires a large powerful shot.
Kitchen Knife, Trent's starter, has been renamed to Crowbar. Crowbar has a wider swing than Kitchen Knife did.
Charged weapons no longer outline in white when they are charged.
Backpack now drops the consumable on the floor so you know what it actually is.
Maneki-neko now drops a Golden Cookie upon pickup.
Disposable Camera stacks differently. Instead of increasing the stun
duration, it increases the size of the photo. The photo size from a single Disposable Camera is smaller than before.
Cardboard Crown has been given a sprite.
Black Hole, Scythe, and Tranquilizer have been resprited.
Extra Thumb has been renamed to Reflexes.
Fixed an exploit where instant-reload weapons like Vacuum Cleaner could create infinite mousetraps.
Fixed strange pathfinding with fast enemies, specifically Camelot.
Fixed Mushroom causing your weapon to display at an incorrect angle.
Fixed a bug where the appetizer daily modifier could crash the game if it chose Acorn as its item.
The font can use various new symbols, like the em dash! So far we've only changed the apostrophes in the passive item descriptions.